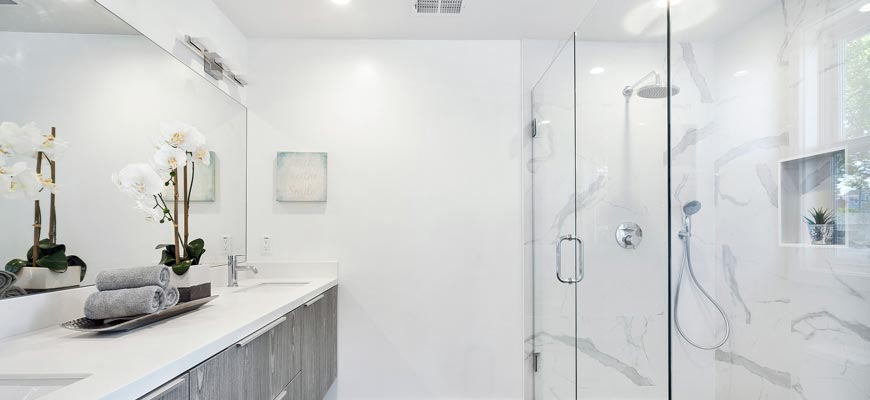 Taking on a bathroom remodeling. Depending on what you want, remodeling could end up being cost-prohibitive, however, there are many ways to go about a bathroom remodel on a budget.
project can be a huge and expensive undertaking. This can be especially true with
If there are things that you are willing to do to decrease the overall cost of the remodel, you will likely be able to get the end result that you are looking for. While there are more ways to decrease the expense, there are some key areas that will make the biggest impact.
We have listed below 5 ways that can help you remodel your bathroom on a budget. Some of these may require more physical involvement on your part while some require rethinking and being creative with the space. Continue reading to learn more!
5 Ways to Remodel a Bathroom on a Budget
What are the best ways and most feasible options for reducing a bathroom remodel budget? Well, that depends on what you are willing and able to do yourself. It also depends on what you are willing to make concessions on in the design of the remodel. The five we are talking about in this blog post tend to be the best ways to in the budget.
1.) Limiting Tile
Tile can be an expensive cost to most renovations. Both the materials can be expensive and the labor costs associated with having the tile installed tend to be high. This doesn't mean that you shouldn't have any tile work included in your remodel but it is a great way to save money.
You can limit it by choosing either tile floors or tile shower walls instead of having both. Another way to cut the tile budget is by choosing a bigger tile rather than a smaller subway style tile.
2.) Refinish Your Tub
It is very tempting to just rip your old tub out and install a new one but there is an option that could save you a large chunk of your remodel budget. The cost associated with replacing a tub includes having the tub removed, hauled off, a new tub, and the install of the new tub. Just refinishing your old tub to look new is more cost-effective.
Moving water supply and/or drainage immediately drives up the cost of any remodel project.
3.) Leave Plumbing Alone
Moving bathroom plumbing is a huge expense. If you decide to have plumbing moved it will almost guarantee that you will be hitting the top of your remodel budget if not surpassing it. Rearranging pipes and water supply lines is a huge undertaking that potentially involves, tearing up flooring, removing drywall, and other demo work. If you can avoid these things, it will save you money.
4.) DIY Design
Hiring a designer for your bathroom remodel may sound great, and it really can be, but if you are trying to save money then you need to take the design wheel. If you don't have a design eye you can search for inspiration on Pinterest, in a magazine, online or ask a friend that does have that talent to help.
5.) Do Your Own Painting
Having a professional do the painting, even in a small bathroom can require you to spend more on your remodel than you want to. While it can be a hassle, it will be financially beneficial to do the painting yourself if you are trying to lower the budget.
Contact Level 10 Builders Today
If you're not an avid DIY'er or if you just want a professional to come in and do the job, then contact us today. Level 10 has extensive experience with bathroom remodeling and works with homeowners to create the bathroom of their dreams. Just check out our gallery and see for yourself! Call us today at (616) 822-4685. We offer in-home estimates and a stress-free experience