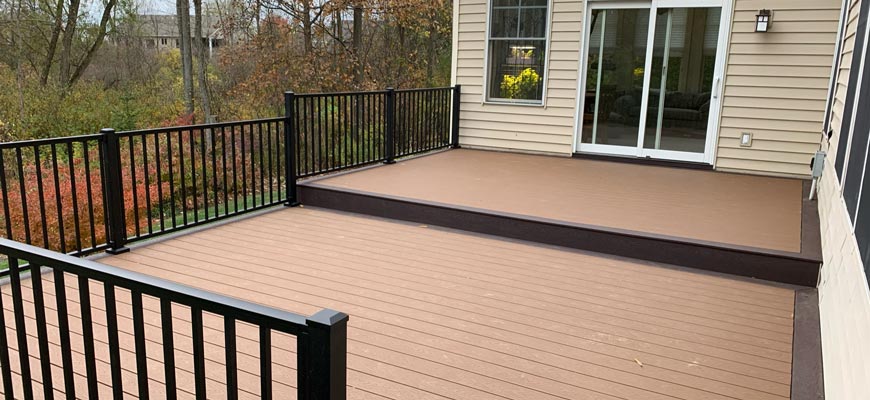 If you are looking for a reputable patio or deck builder in the Grand Rapids area, then look no further than Level 10 Builders — West Michigan's #1 deck construction company. We have an abundance of experience in exterior home remodeling services and outdoor living spaces – just check out our gallery of work!
Our deck building skills are second-to-none and all of our labor comes with a one year guarantee. As with our other remodeling services, we offer all customers free estimates to get a better understanding of your project and to see if we will be a good fit for each other.
Deck Remodeling Considerations
Before you begin the
there are a number of factors to consider, like, which material to use. We primarily work with three different types: composite, pressure treated and cedar. These are among the most popular to use in Michigan because of their durability and longevity through harsh Michigan winters. Take a look at the benefits and drawbacks of each so you can make an informed decision:
Composite Decking
Pros:
Low maintenance
No warping or splitting
Free of knots / splinters
Cons:
More expensive
Not resistant to mold / mildew
Doesn't look like real wood
Pressure-Treated Decking
Pros:
Less expensive
Long lifespan
Stainable / paintable
Cons:
Prone to cracking / warping
Regular maintenance
May contain toxins
Cedar Decking
Pros:
Resistant to decay
Natural / stainable
Less expensive
Cons:
Regular power washing / resealing
Requires stain
Less durability
Our home remodelers provide high-quality decking solutions for your home. We pride ourselves on having an outstanding reputation in the building/remodeling industry and always deliver unequaled results. We are licensed and insured and takes the time to clearly communicate the construction process with our clients.
Contact us here or call us at (616) 822-4685 to get started. We look forward to working with you and building a beautiful deck that will add function and curb appeal to your property.