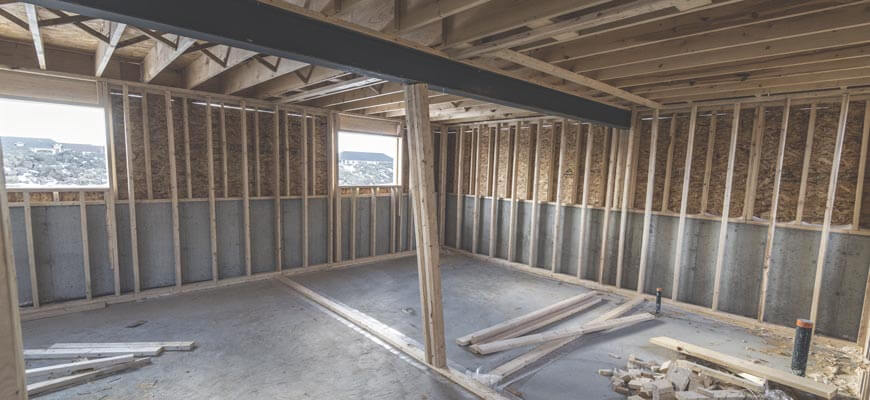 Homeowners everywhere often ask themselves "Will a finished basement add value to my home?" It's a frequently asked question, especially for those who are
in the near future. Typically, the answer is going to be yes, however, investing in remodeling your basement might not be the best choice for a home renovation.
There are several factors to consider, like what type of finished basement is it going to be? What is the cost in my area? What material should I use? We'll explore these and more so you can make an informed decision on whether or not to invest in finishing your basement.
Should I Finish My Basement
Depending on what your goals are with your remodeling project, a basement remodel may or may not be the solution for you. If you need extra space for a play room and have a growing family, then yes, this could be the perfect home renovation to invest in. But if you're a single person, living alone with no long term plans to stay in your home, then you should consider putting your money to work somewhere else.
There are several things to consider before starting a basement makeover. Continue reading to learn about the different types of basements and how they can affect your
.
The Types of Finished Basements
Walk-out Basements
Walk-out basements are highly sought after because of everything they have to offer. With an abundance of natural light, a big slider door that opens up to a backyard...sounds perfect doesn't it? These types of basements typically have the same amount of headroom as the kitchen upstairs because the property is built on a slope. This allows for better lighting, better storage solutions and a better overall aesthetic appeal.
Standard Lot Basements
These basements are most prevalent in American homes. It is essentially an underground, concrete bunker with glass block windows. Did I mention that traditional basements are usually dark and dingy? Although standard lot basements aren't as
as walkout basements, when properly finished and remodeled, it can totally transform the look and feel of the space.
Garden Level Basements
A garden level basement is a hybrid between the walkout basement and the standard lot basement. The small difference that sets it apart (typically) is that it has both large and small windows but there usually isn't a walkout door to the backyard. These are more typical in office settings however some residential homes are made with garden level basements. It all just depends on the degree of slope to the back yard.
"On average, a mid-range basement remodel can cost around $70,000. You can expect a return on investment of about $50,000 for that 70K spent."
Basement Finishing ROI
Trying to figure out how much return on investment you can get from remodeling your basement is dependent on so many factors. For example, each of the types of basements mentioned above all yield different ROI's when it's time to sell. And, depending on where you live can also have an impact on how much money you expect to recoup from the renovation.
On average, a mid-range basement remodel can cost around $70,000. You can expect a return on investment of about $50,000 for that 70K spent. However these numbers fluctuate from region to region. For example, if you live in the Pacific Northwest you can expect to see about an 85% ROI whereas homeowners in the New England area will only see about a 53% ROI.
Uses Of A Finished Basement
Guest bedroom
Theater / media room
Wet bar
Playroom / recreation room
Workout room / gym
And much more!
If you're considering finishing your basement, call our reliable home builders at Level 10 Builders. Our Greater Grand Rapids basement remodelers know the ins and outs of basement remodeling to ensure your project gets done correctly. Call us today at (616) 822-4685 to get started or fill out our online form for a free estimate. We look forward to working with you!