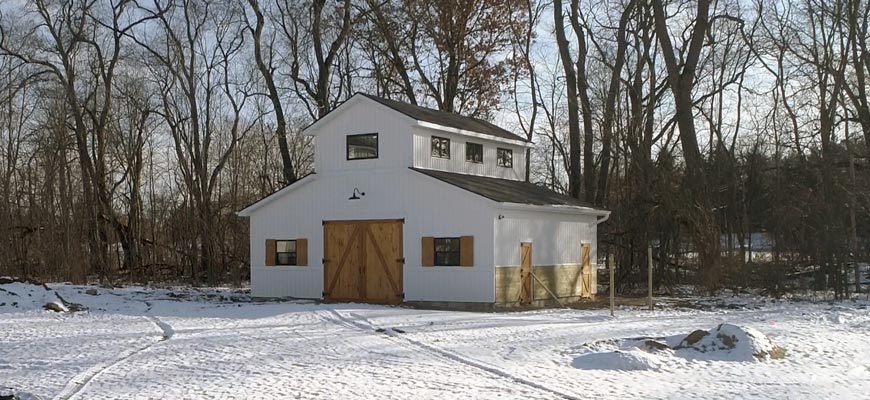 Owning a home is a cornerstone of the pole barn house. Read on to learn more about pole barn houses and you just might discover how to turn your dream home into a reality.
. However, with housing prices on the rise, people are seeking alternatives to conventional stick-built and modular homes. One viable option is a
For generations, pole barns have been used for agricultural and farming purposes as an affordable, easy way to store goods and equipment. Although the first pole barns were constructed of wood, today's versions are predominately made of durable metal.
Traditional Homes vs. Pole Barn Homes
Pole barn homes come in a variety of designs and look like any other home. However, a standard house is built on a foundation, which is the basis for the structural support. On the other hand, the integrity of a pole barn house is derived from metal exterior walls that are secured to poles in the ground. And, because the pole barn house is primarily metal, it requires little maintenance, lasts a long time, and is easy to build.
Benefits of a Pole Barn House
The popularity of pole barn houses has grown in recent years and there are a variety of designs, floorplans, and kits to choose from. In addition to the layouts often consisting of large windows and spacious living quarters, there are many benefits to a pole barn house. The pole barn house requires fewer materials and is less labor intensive than a stick-built house. So, in addition to saving money on the build, the pole barn house will be ready to move into in a fraction of the time.
Floorplan Options
Farmers recognized the versatility of pole barns long before the existing floorplans and designs became available. Besides using these structures for housing equipment and supplies, farmers often reserved sections of a pole barn for living space, and eventually, began building their primary homes based on the pole barn style.
The pole barn house is a cheaper, higher quality option than a regular home.
Modern-day floorplans offer layout options and unlike stick-built homes, there are no interior load bearing walls, which translates to plenty of design flexibility. Whether you prefer cozy quarters or plenty of natural sunlight and space to entertain, the floorplans can be tailored to suit your preferences.
Pole Barn House Kits
The simplest way to build a pole barn house is to choose a floorplan and purchase it as a kit. If you're an avid DIYer, you can build your own house, but if you prefer an approach that is less hands-on, trust Level 10 Builders with building your barn.
It's important to understand, these kits consist of the necessary materials to build the shell (or exterior) of the home. In order to make the home move-in ready, you'll need to address details like finishes. Level 10 can help you with these specifics, so budget an additional 30% or so for these costs. Yet, even when factoring in these additional costs, the pole barn house is still a cheaper, higher quality option.
, electrical, interior walls, appliances, windows, doors and
Contact Level 10 Today!
Level 10 Builders provide high-quality custom barns in Grand Rapids and throughout West Michigan. Contact our home builders today at (616) 822-4685 to get started with your barn project. We look forward to working with you!