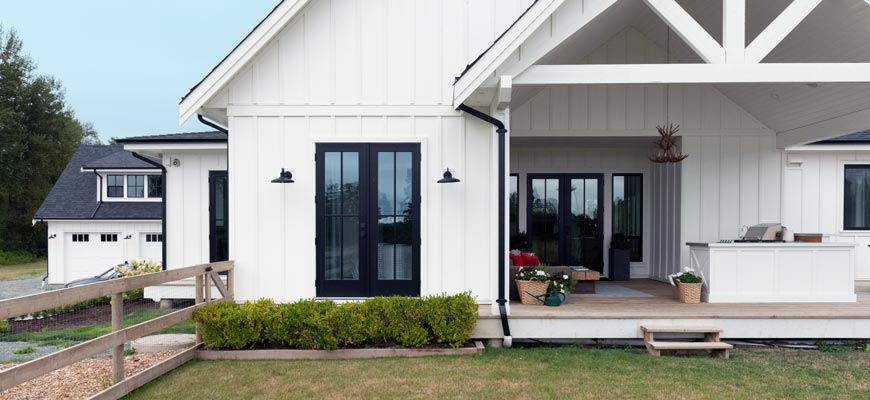 If you dream of owning a home with acreage, but find yourself easily discouraged by real estate prices, perhaps you should consider a pole barn home. These homes look like standard homes, but they are much more affordable, and offer more versatility.
Pole barn homes are named as such, because the primary form of support of the entire structure is derived from poles that are either driven into the ground, or secured directly on the ground. The exterior shell, including walls and roof, of the pole barn house is attached directly to the poles. This is what differentiates the pole barn home from the traditional stick-built home, which is constructed of a foundation and load-bearing walls that secure the roof.
About Pole Barn Homes
Besides the structure of the pole barn being stronger and longer lasting than a standard wood-framed home, the amount of time and cost of materials is significantly less. Additionally, because load-bearing walls aren't necessary in these homes, it is much easier to design spacious floorplans.
A pole barn home can cost between 20% and 40% less than a standard built home.
The exterior of the barn home is generally made of metal or wood panels, but stone and cement options are also possible. We realize the name may cause you to conjure up images of a house that resembles a barn, but the companies that specialize in pole barn construction are very innovative. Certainly, if you want a rustic barn-style home, it's possible, but you can choose from an array of styles.
What Does the Interior of the Pole Barn Home Look Like?
Because the home doesn't require load-bearing walls throughout, you will be working with a blank slate that you can customize in countless ways. From choosing the amount of square footage, number and size of rooms to opting for large or small windows, the choice is up to you.
To emphasize the flexibility, you have to work with, the pole barn design was originally used by farmers and agricultural businesses to store large equipment. Likewise, gyms,
, and churches are built based on the design because of the wide-open space and endless possibilities.
Cost Factors to Consider
Overall, the barn home is less expensive, because the primary structure can be built much faster than one that is custom built onsite. The pole barn house can be purchased in pre-designed kits that include the house plans and all materials and hardware required to build the structure. Pre-designed kits are useful for DIY'ers with home construction experience. If you don't have experience in home building or construction, it's best to leave the job to a pole barn builder.
Once you have the land and required building permits, you simply need to hire a
to help you with the interior details and build the house for you. As with any home or structure, the costs vary based on location and associated taxes and fees, square footage, materials, design details, and labor costs. However, based on the average cost per square footage, a pole barn home can cost between 20% and 40% less than a standard stick built home.
With real estate prices on the rise throughout much of the nation, consider making your new home a custom pole barn home. Not only will you get more house for the money, but you can move in much faster!
Contact Level 10 Builders Today!
We provide pole barn building in Grand Rapids and throughout West Michigan. If you are looking for a professional to help you build a pole barn house in the Grand Rapids area, then Contact our builders at (616) 822-4685. Level 10 Builders offers in-home estimates and a stress-free experience.